My Top 10 MTB YouTubers
2/1/2021
---
If you are like me, when you can't ride, you watch someone else ride. I have been following a few Mountain Bike YouTube channels over the last few years and I wanted to share my list of favorite creators. I chose a list of people, not brands, even though some brands and magazines produce some great stuff. These are real people, trying to live the dream and make a living doing what they love. I encourage you to support and subscribe to all of them because they rock and are worthy of your time.
I created a soft list of scoring criteria to help guide me through the ranking process.
My general scoring criteria
How often I watch
Storytelling
Editing, music, graphics
Personality, authenticity, relatable
Interesting destinations and trails
Video quality
Uniqueness
Knowledgeable about bikes
Not just shilling products
Consistent content
Without further ado, here are my top 10 favorite MTB YouTube creators.
(click each logo for their page)
#1 BKXC
My friends...Brian takes the top spot! This past year, he embarked on the 50 State Shred and proved that each state has great mountain biking trails to offer. While Brian is not the most talented rider on the list, he is an authentic and down to earth dude. He is enthustic on every ride and you can tell he loves it - inspiring us all to get out and explore. He is well deserving of my top spot and always finishes his videos with a local food joint. See ya on the trail...
#2 Berm Peak
Today we have something different, but kinda the same. Seth and his channel were definitely a contender for the top spot on this list. He has the most subscribers by a long shot and easily checked off all of the selection crtieria. His storytelling, editing, and bike knowledge are excellent. Watching his growth from Seth's bike hacks in Florida to Berm Peak in North Carolina has been cool to watch over the last 5 years. Seth is truly the gold standard in this content genre. He had a painful injury this past fall and a second surgery this winter. I wish him all the best and a speedy recovery. Thanks for riding with me and I will see you next time.
#3 BCpov
Today on BCpov...Eric is a van lifer who travels around British Columbia and beyond with his wife Van Girl Yuka. He is a genuine, nice guy and as an added bonus, he mixes in some great Google Earth shots to give context to his rides which I appreciate as a geography nerd. He loves a steep rock roll and unfortunately broke his wrist this past fall going OTB. He seems to have recovered pretty well. He announced a scaling back of content, only pushing out a video every other week in 2021, but I am looking forward to what he produces. Hopefully less will be more. Thanks for watching and stay gnarly.
#4 Nate Hills
Nate is the MTB POV OG. Some credit him for creating the concept of MTB POV videos and inspiring others on this list. Nate, an enduro pro, produces his #followcamfriday videos ripping downhill on the gnarliest trails in the west. I would say he is peak Colorado biker dude. With the followcam theme, you always get great technical riding and skill watching his friends. Nate keeps things quiet with very little dialog and just focuses on the ride. His POV footage is intermixed with some awesome drone footage which is beautifully done.
#5 MTB Allan
What's up crew? Allan is the dark horse on this list, and I think he is a rising star. He takes the five spot due great video production and quality which has been much improved over the last 2 years. He hails from southern Cali and takes us on his progression journey as a rider who is improving. He's a bit of a nerd, much like many on this list, and I like his Mario fist bump sound effect. Hope you're having a rad day.
#6 Awesome MTB
Yeeeeeew! Mo and Hannah are a crazy fun couple on this channel. Filled with lots of personality and goofy good times, these two shred their way around the west meeting up with other riders. Mo introduces you to different businesses and brands along the way without being too in your face with it. They keep it light and fun, til next time ride awesome!
#7 Loam Ranger
Hailing from British Columbia, this family man travels to many Canadian destinations and bike parks. He keeps things chill and I really like the cool destinations he goes to. Big mountains always seem to be seen in the distance at many of the bike parks he hits up. His shots in the garage have some cool lighting effects that keep it spicy. He is just another genuine guy from Canada like Eric in BCpov.
#8 Kyle & April Ride MTB
Kyle Warner is another super nice guy, great technical rider, enduro champ and pro rider. This channel focuses on Kyle doing mostly educational videos helping his girlfriend April progress her skills. They currently live in Boise Idaho and have some grand plans to grow the channel in 2021.
#9 Syd and Macky
Syd and Macky is another couple's channel featuring two pro riders. 2020 was a difficult year for them as Syd battled an injury. You can't help but root her on as she recovers from a complicated injury and pain. They have recently launched a new channel Syd Fixes Bikes to fill the void of not racing as they have done in the past. Macky battles for some KOM segments on Strava from time to challenge himself when he can't get his racing fix.
#10 Jeff Kendall-Weed
Jeff is another long time bike industry guy who has made a career in his passion. He is now a family man living in Washington but gets out to ride plenty. Jeff has tons of skill and bike control, but he can sometimes be too technical for my taste when talking about different suspension, bikes and his sponsors. He knows it all when it comes to bikes and loves to ride manuals down the trail which he does in style.
My Ranking vs. YouTube Subscribers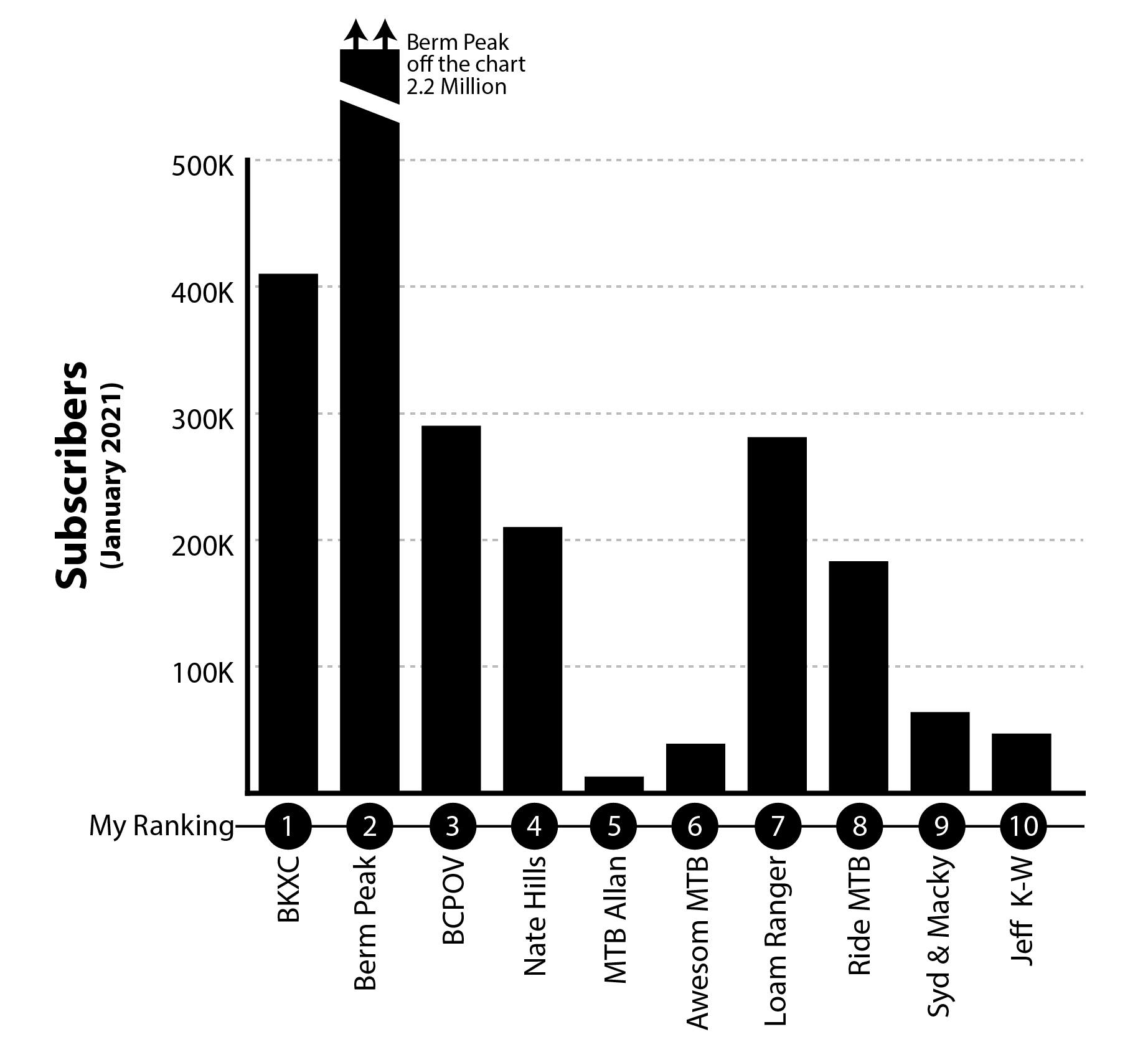 Honorable mentions